The 4th of July is the Christmas equivalent for patriot folks.
You need to think ahead if you want to have outstanding independence day celebrations.
One way of thinking ahead is figuring out the right decorations beforehand and setting up things to avoid the last-minute rush.
See Also: How Often Should You Change Your Home Décor?
But, When Should You Put Up and Take Down Independence Day Decorations?
Of course, not anywhere in April – the closer to the big day the better. The décor should be removed almost immediately after the celebration. While some aspects of this day may be the same across homes, we all don't celebrate exactly the same way. When and the time taken to prepare for the day can depend on what you intend to do. It can also depend on the number of people involved – how you'd plan for a small family may not be the same as a six- or eight-member family.
Up to 1 Week Leading to The Day
Set aside up to one week to prepare for the most demanding activities you plan to do on independence day.
1. Yard Related Decorations
Tidying up the yard, for example, can take a long time if it is large or in a bad shape.
You will need to trim the grass, cut off the branch overgrowths, and ensure there are no "pet presents" on your lawn.
It will take up to a week to prepare the yard for the day.
2. General House Straightening
Unless you live in a tiny home or apartment, preparing a large home for the day can be a daunting task that may take up to three days.
The family room needs to be in order, same as bathrooms and kitchen.
You might think to buy flags and related paraphernalia, install them in the right places, and buy prepare the rooms for the visiting family and friends.
3. Some (Safe) Fireworks
Fireworks are to 4th of July what the turkey is to Thanksgiving – a must-have.
Fireworks need to be bought and set up early, about two or three days before the day. Because fireworks can be dangerous, you must find a professional to choose the right product and do the setup.
Outside games If you plan to have outside games such as volleyball, badminton, horseshoes, and croquet, you will need to put the ground in order up to 1 week to the day.
It can take days to shop for the necessary gear and set up the equipment.
Children love water games (squirt guns, water balloons, or running through your lawn sprinkler or inflatable swimming pool). All these will take you some time to think through.
In a nutshell, decorations involving any activity that must take place outdoors on that day, either in the backyard or front yard (or even picnic outside the home), should take up to a week to purchase and use.
24 Hours to The Day
Most of the decorations can be obtained and put up a day before the 4th of July.
1. Hanging Up the Flag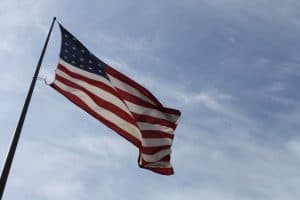 The first thing on your list should be the flag of the United States.
Any other paraphernalia that depicts it can come later.
Buying a flag can be as easy as ordering groceries via a shopping app.
Purchasing a pole is just as easy.
You are free to repurpose any waste pipes from your last home renovation project – your imaginations are the limit.
You can locate a place to erect the pole in your yard a day before the celebrations.
Hanging a flag somewhere on the eaves, gutter, at the doorstep, or indoors can take minutes.
While locating a place to put the pole and hoisting the flag, consider the Flag Code  which outlines the guidelines necessary for displaying the flag of the United States. Here is an easier-to-grasp guide.
2. Lighting Up the Home's Entrance
If you are celebrating the 4th of July from home, it will take you less than 24 hours to line up the path to the front door with beautiful star-embellished string LEDs or similar.
Obtaining and wrapping them around greenery-filled jars and hurricanes isn't as laborious as it sounds.
If you are celebrating from your apartment, use a bunch of garlands to make a cute table centerpiece instead.
Whether you choose to drape them on your vases throughout the space or place them on walls, it is going to take you less than a day.
3. Creating and Setting Up Décor for Casual Area for Entertaining
This too can be completed in 24 hours leading to the day.
Summer cookouts are better off fuss-free, and this one is no different.
A simple picnic table and a few benches are all you need to have a perfect dining spot somewhere in the yard.
If you try hard, it can take one weekend to set up such a spot from a rough-sawn hardwood, but it is likely to last for years.
4. Displaying Confetti Balloons
The red, white, and blue balloons don't need to be sophisticated.
You actually have two options –
either stick to the basic red, blue, and white balloon medley for simplicity reasons
or opt for dozens of these clear beauties instead to add color and pomp to the celebrations.
They are undeniably photogenic. Either way, you will spend less than a day to put them in place, ready for the day of the patriots.
5. Patriotic Pinwheel Wreath
Very much like basic family room decorations, wreaths are easy and fast to lay – you lay them as they are, from the store.
So this may take under an hour to fix in the right places.
Wreaths help set the right tone for the independence day party by ushering in guests with festive and fun stars.
6. Lighting The Sweet or Berry-Scented Candles
Candles are becoming commonplace in the 4th of July celebrations.
You probably have them in mind already.
Don't estimate the power of mood on this day – they can be used to make the mood lighting work twice as required and may instantly enhance the room ambiance.
These too take up to a day to acquire and arrange in strategic locations before the day.
When Do You Remove Independence Day Decorations?
Unlike Christmas, there's no specific date or period set aside for the removal of the decorations that go with the celebrations of the 4th of July.
This means you are free to come up with a convenient cleaning date after the conclusion of the event.
Immediately after the celebrations sounds about right; four days or a week after the celebrations is an overstretch.
Whether you choose to get rid of the decorations that evening or two days later, do it in an environment-friendly way.
If you used wood, anything organic, or even inorganic materials, remember that they can be recycled for either composting or in the production of other items – the wood chippings, for example, can be used in local woodland areas or parks.
Some councils will insist on collecting the decorations themselves with normal garden or household waste.
Some of them will even set up designated collection points while others will establish special drop-off areas.
Take your time and visit your local council's website for guidance.
Also, check whether your neighborhood has a designated collection point for waste decorations.
Other Home Decor Ideas
Conclusion
When should you put up and take down Independence Day (4th Of July) decorations?
It depends on the kind of decoration and size of the home.
If you plan to throw a party in the backyard on that day, for example, it's going to take you an entire week to put make the arrangement.
Also, if you plan to have outside games such as volleyball, badminton, horseshoes, and croquet, you will need to put the ground in order up to 1 week to the day.
Minor decorations for small families can be installed a day to the 4th of July and get cleared that evening.